SchoolBits


SchoolBits is an easy-to-use, portable, fully-featured, protected, CIPA Compliant E-mail system for students. It is web-based and requires no software installation on your servers or workstations - all you need is an internet connection and a web browser.



SchoolBits gives students individual E-mail accounts while allowing you to manage incoming/outgoing E-mail message based on any combination of the following settings: Inappropriate Language (Customizable list of over 4,000 words & phrases in 16 categories) All Attachments (Global of by Group) Executable Attachments Specified Attachment Types (Global or by Group) In-Line Images Blocked Domain Allowed Domain, SPAM Score, as well as a Moderate ALL incoming/outgoing E-mail option.



With SchoolBits, schools and libraries can create a safe environment for students to send and receive email, and costs only pennies per month per student.



SchoolBits is fully CIPA compliant.

Moderation of Student E-mail


Finally you can allow students to have their own e-mail but not allow them to send e-mail with questionable content. School personnel can review all e-mails incoming & outgoing or just those blocked as per our customizable moderation settings (i.e. bad words, attachments, etc.)


---

Language Filtering
Manage incoming and outgoing E-mail messages containing inappropriate language. You can choose to moderate or automatically delete e-mail messages flagged for inappropriate language.

---

Review All E-mail Messages
Moderate all incoming and outgoing e-mail messages.

---

E-mail Messages Containing Attachments.


Manage incoming and outgoing E-mail messages containing attachments. You can choose to allow, moderate or automatically delete all attachments or customize your settings further by file extensions.


---

E-mail Messages Containing In-line Images
Manage incoming and outgoing E-mail messages containing in-line images. You can choose to allow, moderate or automatically delete e-mail messages containing in-line images.

---

Automatically Block Executable Attachments
You can choose to have all attachments with recognizable executable extensions automatically blocked, to prevent the spread of viruses and trojan programs.

---

Individual Mail Blocking Preferences
Students can choose to block E-mail from a list of addresses that they manage.

---

Mail Logging
Maintain a log of all incoming and outgoing e-mail messages.

---

Automatic Message Recovery
Never again lose a message due to Internet malfunctions or other lost connections.

---

Use your own domain name
After the 30-day trial period, you can choose optional registration of your own domain name, providing E-mail addresses for all your users such as you@yourschool.yourstate.us. Alternately you can choose to use one of our domains ending in k12us.com

---

Get your e-mail from anywhere. With SchoolBits, users can log onto the e-mail service website from anywhere to send & receive mail.

---

Nothing to take up valuable hard disk space. Since SchoolBits is accessed over the Internet, there's nothing to take up space on your computers.

---

Personalization.


Create personal folders to organize your mail, create a signature file to personalize each email you send, and change the colors of SchoolBits to reflect the real you!


Customizable District-wide SPAM Filtering
Filter out those annoying e-mails before they ever get to your mailbox. You can limit receiving email to just your organization, and only allow specific e-mail addresses to be received, too!

---

Virus Scanning.


Never fear...Virus scanner automatically checks each incoming and outgoing e-mail for viruses. Incoming e-mail messages are even scanned for viruses TWICE: before delivery and again at the time of download.


---

Customizable District News
Post your own news and announcements.

---

File Storage and Sharing
Students can store files in a personal, easily-organized file storage area, and/or share files with other service users.

---

Time Restrictions
You can restrict when students can access their email accounts, and also restrict when they can send email to each other.

---

Global Event Calendar
Set events and appointments that can be seen by your whole organization.

---

Personal Calendar
Keep track of appointments and other important dates.

---

Business Address Book.
Makes e-mailing co-workers and other students a snap.

---

Personal Address Book.
Allows each student to create his/her own address book as well as personal distribution groups. Add family and friends.

---

Mail Notification
Optional audio and visual pop up cues let your students know when new mail has arrived.

---

Signature. Students can improve the professionalism of their e-mails and reduce repetitive typing with their own personalized "signature" that they can create.

---

Spell Checker.


SchoolBits also has a built-in spell checker with an over 110,000 word vocabulary.


---

Custom Column Views
Students can customize their E-mail list display, showing only columns of data that they want to see. Students can also sort on these columns.

---

E-mail Search
Students can search in the Subject, Body, or the From or To Address fields of your email, and save the results of your most recent search.

---

E-mail Short-Cuts
Students can save time by entering just the first few letters of an E-mail address in your address book and the e-mail service will bring up a list of selections to choose from.
---
"Schoolbits has given our middle school students the opportunity to share their lives and culture with other students around the world."
Barb Leonard, Alma Public School District

SchoolBits Advantages over Traditional E-mail

SchoolBits is a web-based email service designed to meet the needs of school administrators and staff who want to provide e-mail to students and retain control of its content. It has many advantages over other on-line and traditional E-mail systems.

---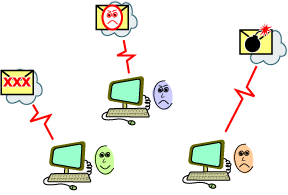 With other online services, you can not block what students are sending. Pornography, a threat to the President or another student? Yikes! It's a school's worst nightmare. Yet schools are under tremendous pressure to use technology in the classrooms.

With a traditional email service for a school, you can block for content but school technicians have to maintain the e-mail software, computers, accounts and security.

---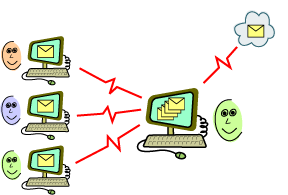 SchoolBits brings together the best of both worlds. The blocking capabilities of a traditional e-mail system and the ease of an on-line service.

SchoolBits can be accessed on any computer with a web browser and an internet connection. Simple & easy, with nothing to maintain or install.

Students access SchoolBits with an encrypted password, and read, organize and delete their mail with a simple web interface.

---
"I cannot say enough good things about The K12 WebMailPRO and The SchoolsBits E-Mail systems. We have upgraded from the basic service to WebMailPRO because of the great service and new features that have been added over the last 2 years. Just today I requested an import of some 1500 students into the SchoolBits program and it was complete in a matter of 30 Minutes. Keep Up the Great Service!"
Robert DiAmbrosio, District Information Systems Coordinator,
HACKENSACK SCHOOL DISTRICT


| | |
| --- | --- |
| ISBoss.com ©1999-2022 | Networks & More! Inc. |